Search
Homes with a Basement
It's a question that everyone asks when they come to Arizona, "Do homes have basements?"  This is because in every other part of the country basements are very common, so it is a very valid question.
The major reason, it is less expensive to build a second floor than to dig and finish a basement.  In other parts of the country, you're probably digging to a depth of 4 - 5 feet to place pipes under the freezing line so adding a basement is not a significant incremental cost. In Phoenix, you only have to go down 18 inches. Basements increase the cost by $20 - $25/sq.ft. according to Scott McDonald, founder of the Wall Company. If you are curious about finding homes with a basement in Phoenix, Scottsdale, Gilbert, Tempe, Queen Creek or Chandler, please click on Send Me Basement Homes via e-mail.
Basement Homes by City: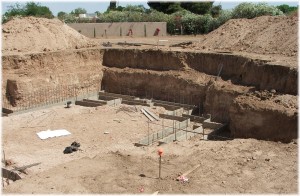 Communities with Basement Homes
Power Ranch
Some neighborhoods have a higher percentage of basement homes than others. One award winning 1,414 acre community with basement homes in Gilbert is Power Ranch that features 240 acres of open space and 26 miles of paths and trails.  Click on Power Ranch  Basement Homes to see available homes.
Agritopia
Another distinctive Gilbert community that features basement homes in Agritopia. This family friendly community's vision is that of a community with character built around an urban farm. Available basement homes can be seen at Agritopia basement homes.
Jakes Ranch
Jakes Ranch is a Gilbert gated luxury home subdivision built by TW Lewis that also incorporates basement floorplans into the their home designs. Jakes Ranch basement homes for sale.
Embarcadero
This TW Lewis waterfront community in the Ocotillo area of Chandler has 66 single story homes, many with basements, on lots that range in size between 1/3 to 1/2 acre. 38 of the lots are waterfront homes. Embarcadero Homes for Sale
Abralee Meadow
Located in Chandler, south of the 202 loop, this Sunwest community features over 250 homes.  Built between 2004 - 2006, Abralee Meadow homes are on average 3,300 sq.ft. Many of them feature basements with a full bathroom, bedrooms, and a downstairs family room.  Abralee Meadow Basement Homes for Sale
Valencia - A TW Lewis Basement Community
Located at the southeast corner of Gilbert and Chandler Heights, Valencia is a luxury TW Lewis development that includes basement homes.TW Lewis Valencia basement homes. 
Hard soil is typically not a reason for a house not having a basement.  It is a common explanation, but upon talking to those who do the excavation, the "hard digs" are very much the exception. Scott McDonald of The Wall Company estimates that less than 5 percent of the basements built in the southwest require a hard dig.